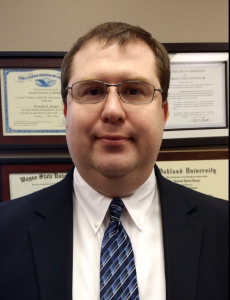 Kenneth Burger is an associate attorney for The Law Offices of John Julius Danielski, P.C. He has been with the firm since January 2011.As a result, he is a recognized expert in family law, probate, and bankruptcy. Furthermore, Mr. Burger is admitted to the State Bar of Michigan and the Federal Bar. He thrives in handling personal injury, criminal, family law, probate, and bankruptcy cases. Because he enjoys helping people, which is the reason he became a lawyer.
Mr. Burger received his Juris Doctorate from Wayne State University in 2009.  During his time at Wayne State, Ken received Cum Laude honors and the Ralph Freeman Law School Scholarship.  When asked what makes him a good lawyer, Burger responded by saying, "I think what makes me better than competitors is that I care about my clients and their cases.  I treat them like family."  Burger offers candid assessments and advice of the strengths and weaknesses of customer cases. He considers his candidness a strength.
Kenneth Burger Attorney
Mr. Burger is married with a child and resides in the metro-Detroit area.  He enjoys gaming, brewing beer, and cooking.  Mr. Burger also has a pilot's license.