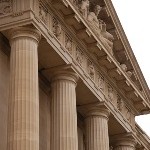 Executive Branch
WhiteHouse.gov is the official web site for the White House and President Barack Obama, the 44th President of the United States. This site is a source for information about the President, White House news and policies, White House history, and the federal government.
Legislative Branch 
The Library of Congress THOMAS site is the source for federal legislative information. THOMAS provides several options for finding bills, resolutions, and legislative histories from 1973 to the present. Legislative information can be searched across multiple Congresses. THOMAS is also the source for presidential nominations, treaties, committee reports, legislative resources for researchers and teachers. THOMAS draws on the resources of the Library of Congress to provide users with valuable and historical information related to the legislative process.
Library of Congress
The Library of Congress is the nation's oldest federal cultural institution, and it serves as the research arm of Congress. It is also the largest library in the world, with more than 120 million items. The collections include books, sound recordings, motion pictures, photographs, maps, and manuscripts.
The United States Code (Federal Laws)
The United States Code generated from the most recent official version made available by the US House of Representatives.
The Bill of Rights 
Bill of Rights | LII / Legal Information Institute
Internal Revenue Service (IRS)
United States Department of the Treasury
– IRS tax forms and information.
State of Michigan Government
The State of Michigan official site contains links to the three Branches of Michigan Government including; Executive Branch, Judicial Branch, and Legislative Branch. Also included are links for online services, news wire and other government sites.
The Law Offices of John Danielski is in Taylor, Michigan, serving people throughout southeast Michigan, including Wayne, Monroe, Washtenaw, Macomb, and Oakland counties. Please call us at 734-284-9399  to set up a free initial consultation.